Start Planning for Your CSBG Tribal Plan & Application
If you are interested in applying for the Community Services Block Grant, are a new administrator, or simply need a refresher on the CSBG application process, this page will provide you with information regarding the CSBG planning & development process along with important deadlines to mark on your calendar.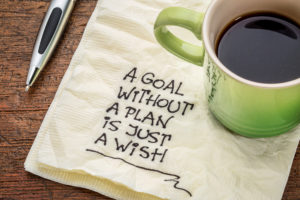 Planning & Development
CSBG offers flexibility to design a program that meets each Tribe's unique resources and needs. To support ongoing planning and program development, CSBG grantees are encouraged to use a continuous cycle, results-oriented planning, management, and accountability system.
The image below provides a framework for continuous planning and evaluation for CSBG program development, including Assessment of Needs & Resources, Tribal Plan & Application, Service Delivery & Grant Management, and Evaluation & Reporting.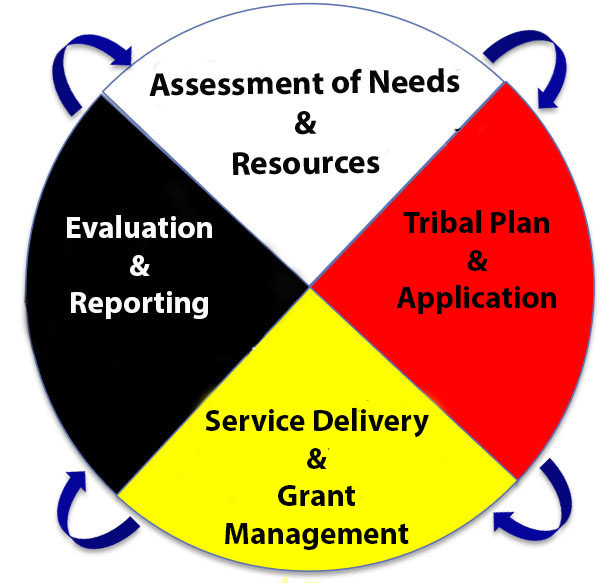 In this planning cycle we can see the following ongoing and continuous processes:
The assessment of needs & resources helps the Tribe identify and prioritize the needs that can be addressed through CSBG funding for a new fiscal year(s).
Through the defined Tribal Plan & application, the Tribe determines and specifies the CSBG services and activities that will be implemented each fiscal year. Section 676(a) (2) (B) of the CSBG Act requires community feedback as part of the development of the CSBG Tribal Plan. Tribal grantees are required to provide evidence of public review, and Tribal Plan adjustments based on community feedback should be made as necessary.
Service delivery & grant management is then provided according to the implementation and service delivery plan outlined in the CSBG Tribal Plan.
Throughout the year, evaluate & report successes and challenges while adapting the program as needed. In addition, in preparation for the CSBG application for the new fiscal year, each Tribe prepares an Annual Report. Grantees must submit an Annual Report by December 30 every year (including grantees who submitted two-year CSBG Tribal Plans). The Annual Report is a narrative description of how the grantee met its CSBG goals and objectives and provides information on the types of projects supported by the current fiscal year CSBG funds.
Application/Annual Report Timeline
CSBG Tribal Plan and Application are due by September 1st every year.
CSBG Tribal Annual Report is due by December 30th every year.
Please remember to plan ahead! Don't wait until the summer to begin compiling your information. Prepare all year long! Follow the deadline below to stay on track with your CSBG Tribal Plan and Annual Report submission dates.
Note: Tribal grantees with approved two-year Tribal Plans are still required to submit an updated SF-424M (by September 1) and Annual Report (by December 30) each year to receive funding. 
March: Prepare
As the half-way point in the Community Services Block Grant year is approaching, it is the perfect time for prospective grantees to start organizing their plan, hold their public hearing, and compile all the necessary paperwork and requirements needed for a complete application.
For renewing grantees this is the perfect time to reflect on the current fiscal year progress and to begin planning your program for the next fiscal year. Review your CSBG Plan to see if you are meeting the goals, serving the clients, and getting the results, you planned for.  Now is a good time to ensure that a clear plan is in place for your program to fully obligate and draw down all current fiscal year funding. Current Tribal grantees should have received their Notice of Grant Award letter from the Office of Grant Management. This letter provides the full current fiscal year's allotment for your program, as well as requirements for drawing down funding through the DHHS Payment Management System (PMS).
Fiscal Dates to Remember:
Deadline for Obligating FY19 Funds: September 30, 2020
Deadline for Expending/Liquidating FY19 Funds: December 30, 2020
If any FY18 funds remain, please note:
Deadline for Obligating FY18 Funds: September 30, 2019
Deadline for Expending/Liquidating FY18 Funds: December 30, 2019
To help you stay on track, we've put together a CSBG Mid-Year Check In reminder sheet and checklist.
June – August: Train
The CSBG T& TA Program for Tribes & Tribal Organizations and The Office of Community Services (OCS) host an annual four-part webinar series to assist prospective and current Tribal grantees in preparing for their CSBG applications and Annual Reports. The series is offered live, and participants can ask questions directly to the OCS and CSBG Tribal T&TA staff. The training series is recorded and available for review all year long with access to tools, templates, and step-by-step instructions.
August: OLDC Access
Current CSBG Grant Administrators must log in to the OLDC System and confirm that CSBG is listed as one of your programs. If you are unable to log in or do not have CSBG listed as one of your programs, please complete an OLDC Access Form and submit to Niki Frazier at
nikita.frazier@acf.hhs.gov. (For more information on accessing the OLDC System, please review our Guide to the OLDC System webinar recording.) Please Note: New administrators of current CSBG grantees must also complete an OLDC Access Form and email it to Niki Frazier.
Any federally- or state-recognized Indian Tribe or Tribal Organization that is interested in receiving CSBG funds directly must first contact the Office Community Services at csbgtribes@acf.hhs.gov to receive specific instructions. First-time applicants/prospective grantees will then submit the following before completing a CSBG Tribal Plan and Application:
Employer Identification Number (EIN) Number; and
A signed statement of the agreement between the Tribe or Tribal Organization and the State confirming the Tribal population and the percentage of Tribal poverty in the state.
September: Submit
All new & renewing applicants must submit CSBG application materials to the Office of Community Services by September 1 every year. CSBG funding for each fiscal year is subject to the receipt and approval of all required CSBG application materials.
(Note: Tribal grantees in the MIDDLE of an approved two-year Tribal Plan are still required to submit an updated SF-424M and Annual Report yearly to receive funding. They are NOT required to re-submit their Tribal Plan and documentation.)
Help is Available!
Help is always available! Contact the CSBG Tribal Training & TA team with help your with CSBG Tribal Application and Annual Reports by calling 301-244-3557 or email tribalta@luxcg.com.
Don't forget to view our CSBG Frequently Asked Questions for answers to various questions on the CSBG program and the application process.